Chief of Police
Message from the Chief:
The Greensburg Police Department is anchored in a comprehensive community engagement strategy in which the entire department engages in several efforts focused on building trust and reducing crime.
Community Policing, which builds trust between the community and law enforcement, is the top priority of the Greensburg Police Department. Keeping Greensburg safe is not something our officers can do on their own- collaboration with our residents is key. By working with the community, we have developed a streamlined approach to identifying community needs and issues.
The Greensburg Police Department takes pride in training its officers at the highest level. Our officers benefit the community by going through a higher level of training- they are better able to serve and protect our residents in any situation that occurs.
We at the Greensburg Police Department take pride in working for the City of Greensburg and with the citizens of Greensburg. Greensburg Police Officers will perform their duties at the highest standard or service to their community, and will work with citizens to keep Greensburg safe.
If you ever have a question or concern, please feel free to call the Greensburg Police Department at 812-663-3131.
Police Chief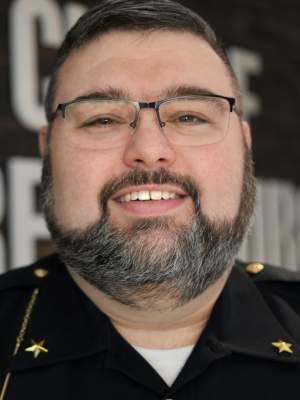 Mike McNealy
Police Chief