Department Info
Administrative Division
The Administrative Division of the Greensburg Police Department consists of the Chief of Police, Assistant Chief of Police, Patrol Captain, and Administrative Assistant. These positions are vital for ensuring that the day to day operations of the police department run smoothly.
Some of their responsibilities include maintaining data entry standards for criminal investigations, traffic accidents, and other local documentation. They coordinate community outreach programs and help to schedule the rotation of equipment for the officers. The administrators regularly attend various city meetings to discuss the business of the police department and further advocate for growing the police department to best serve the community's needs.
The Chief of Police is selected by the Mayor of Greensburg and serves at his or her discretion. The Assistant Chief of Police and Patrol Captain are selected by the Chief of Police and serve at his or her discretion.
Patrol Division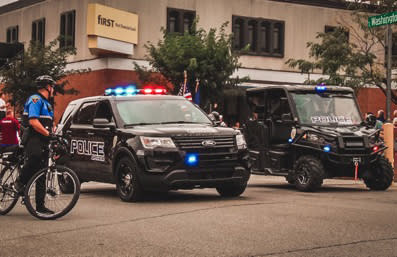 The Patrol Division of the Greensburg Police Department is the most recognizable division within the police department. Officers on patrol are in full uniform and are driving marked police vehicles. Currently, it is made up of 18 officers split among an A-Shift and B-Shift. Each shift is led by a Lieutenant and Sergeant who are supported by seven patrol officers.
The Patrol Division is responsible for covering the City of Greensburg 24 hours a day, 365 days a year. These officers respond to the simplest citizen calls for service to the most dangerous crimes. When not responding to calls officers actively engage in proactive policing practices.
When a new officer hires on to the Greensburg Police Department they will be assigned to the Patrol Division upon successful completion of the department's Field Training Program and Indiana Law Enforcement Academy.
Once assigned to a shift officers of the Patrol Division are encouraged to seek out specialty roles and specialized training in order to better serve the community. These areas include:
K9 Unit
Criminal Interdiction                                                        
Drug Recognition Expert
Neighborhood Watch
Bike Patrol
Crisis Negotiation
Tactical Response Team
Field Training Officer
And many more….
GPD currently has two K9's assigned to the patrol division. They are: K9 Kato partnered with Officer Jacob Mays and K9 Hercules partnered with Officer Stephen Hershberger.
Aside from assigned patrol vehicles the Patrol Division also has access to a department UTV. The UTV is fully marked and equipped with emergency lights and sirens. The UTV can be used to get officers quickly into an area where a standard police car cannot go. It also allows officers to be mobile during community events.
Investigations Division
The Greensburg Police Department Investigations Division regularly receives calls for service from the Patrol Division that require a more thorough investigation. They are also responsible for handling major crime scenes and coordinating the on-scene investigation.
Detectives regularly investigate property crimes, such as theft, burglary, and financial crimes. Personal crimes, such as battery and robbery. Death investigations, including homicide, suicide, and accidental deaths. Domestic violence crimes, such as battery, confinement, and violation of protection orders.
Detectives go on to receive extensive training in specialties, including death investigation, crime scene investigation, drug, and undercover investigations, and interview and interrogation. This ensures that the City of Greensburg has the most capable investigators ready for any situation.
School Resource Division
The School Resource Division of the Greensburg Police Department consists of three full-time School Resource Officers. A School Resource Officer (SRO) is a sworn law enforcement officer who works in a school environment. SROs are trained to provide a safe environment for both teachers and students. SROs work with students to help educate and mentor them so they can learn to make good choices during any situation. SROs build positive relationships with children and teenagers, and by doing so help make the school a safer more enjoyable place for others.