Police Department
Our Mission
As members of the Greensburg Police Department, our mission is to provide a professional community-oriented department. We are committed to creating and maintaining an active community partnership and assisting citizens in identifying and solving problems to improve the quality of lives in our neighborhoods. We are dedicated to protecting life, property, and maintaining order while assuring fair and equal treatment to everyone.
Please take a moment to complete our short Community survey! 
Meet the Police Chief
The Greensburg Police Department is anchored in a comprehensive community engagement strategy in which the entire department engages in several efforts focused on building trust and reducing crime.
Community Policing, which builds trust between the community and law enforcement, is the top priority of the Greensburg Police Department. Keeping Greensburg safe is not something our officers can do on their own- collaboration with our residents is key. By working with the community, we have developed a streamlined approach to identifying community needs and issues.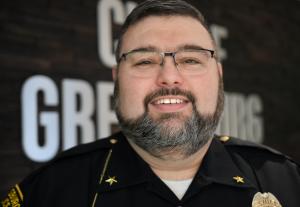 Chief Mike McNealy
Greensburg Police Department