Fire Department
Our Mission
The Greensburg Fire Department is dedicated to preserving life and property through the promotion of public safety to the citizens and visitors of Greensburg, Indiana through compassion, dedication, and honorable service.
MEET OUR CHIEF
Nathan A. Stoermer comes to us as an 18-year veteran of the emergency services industry. While he is an Indiana native, having been born and raised in Evansville, he has most recently served as the Assistant Fire Chief for the City of Eudora in Kansas.
As he progressed throughout his career, Chief Stoermer has held all ranks in the fire service. He currently holds the Chief Fire Officer designation, and he is one of only 18 in Indiana to hold this title. Stoermer holds a bachelor's degree in Fire Administration from Eastern Kentucky University and an associate's in Paramedic Science from Ivy Tech State College.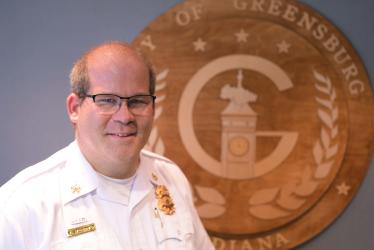 Chief Nathan Stoermer
Greensburg Fire Department